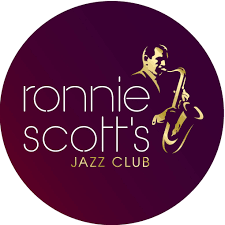 Sunday 26th June – Katriona's Sextet at Ronnie Scott's Jazz Club
June 13, 2022 11:23 am Published by Katriona Taylor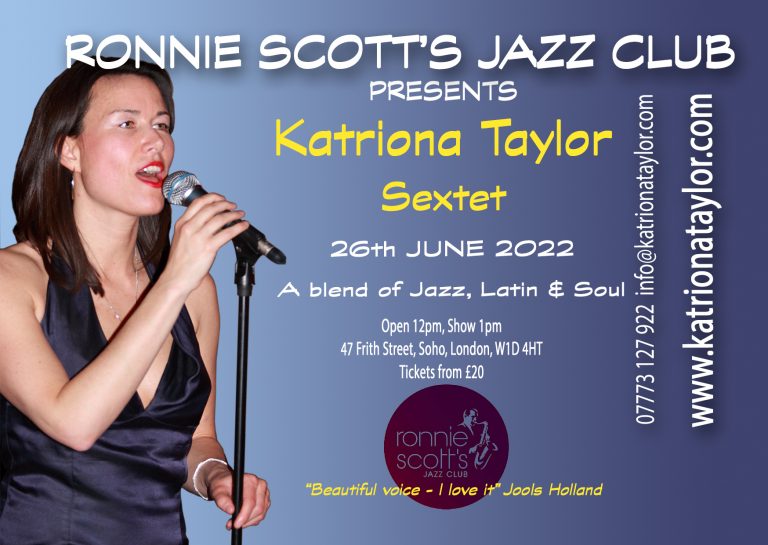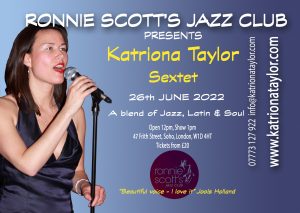 26th June – Sunday Jazz Lunch : Katriona Taylor 'Blind Passion'
Katriona Taylor Sextet at the world famous RONNIE SCOTT'S JAZZ CLUB. Katriona will be performing songs from her brand-new album Blind Passion.
Ronnie Scott's Jazz Club is one of the most famous and oldest Jazz Clubs in Europe. Opened in 1959 and since that time have featured most of the legendary and popular names in modern jazz and jazz fusion. Katriona joins the long list of fantastic Jazz artists who have played at this amazing venue
"Taylor has a seductive and rich voice and is a skilled and sensitive songwriter. She infuses her originals and favourite standards with honest emotion & sizzle. She has been likened to Diana Krall, Sade, Nora Jones, Eva Cassidy and Nancy Wilson."   USA Jazz Review
Sunday Doors 12pm. Show 1pm – 1.45pm (interval) 2.15pm – 3pm.
Please do book in advance.