Next show at Bull's Head on 13th May
April 26, 2017 2:21 pm Published by Katriona Taylor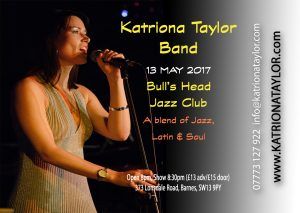 Thanks to everyone who came along to my shows in April, lovely to see so many new faces.
I have a Singing Performance Workshop on 29th April, only 1 space left.
Also the next gig  is on Saturday 13th May 2017 at The Bull's Head, Barnes, I'll have my fabulous band Vasilis Xenopoulis- Sax, Simon Pearson – Drums, Dave Jones – Bass, John Crawford – Piano performing that night.
Thanks
Katriona
Latest Youtube: