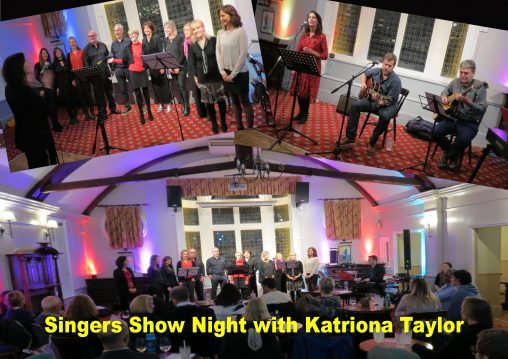 Next date:    Friday 29 March 2019  Venue TBC

Doors open at 7pm
Show Night  event- featuring guest Singers
Show night featuring singers from Katriona Taylor's 9-week Singing Course.
Plus two Showcase guest Singers   who will be performing their songs.
Open Mic is available to anyone who wishes to sing with two professional musicians, on piano and guitar. (Sing up to two songs each, only if space available, limited places).
Free to anyone to watch. Singers are asked for £10 contribution towards the musicians 
Doors open 7pm
7:30pm Katriona's Group
7:55pm Guest Showcase Singer 
8:20pm Guest Showcase Singer 
8:45pm Open Mic 
10:45pm close
A fun evening for singers (their friends welcome too), with drinks & nibbles available from the bar. Every Open Mic Singer is asked to make a £10 contribution towards the costs of the musicians/event via the link below.
Singers must bring two copies of their chosen songs – music sheets sello-taped together (in order) ready for the accompanists (Guitar & Piano) to read.